B



. // bloglinks +
airina
artieee
bjössi
brandon
caterina
chillicrapblog
chris (one-year-gap)
cordelia
dhalif
donald
ember
ewan
ewen
fadil
frances
giggs
guthrie
huiwen
ian
ivy
jane
jay
kenny
labbit
leck koon
leonard
linus
marcus
maria
melissa
melvin
michelle
morganth
nat ho
nat yong pamela
potatobiscuit
pris meimei
rudi
sade
samantha
sidney
siew ling
silver
sharon
stacy
terentius
travis
tom
wenting
zhen ru

. // archives +
02/01/2002 - 03/01/2002
03/01/2002 - 04/01/2002
04/01/2002 - 05/01/2002
05/01/2002 - 06/01/2002
06/01/2002 - 07/01/2002
07/01/2002 - 08/01/2002
08/01/2002 - 09/01/2002
10/01/2002 - 11/01/2002
11/01/2002 - 12/01/2002
12/01/2002 - 01/01/2003
02/01/2003 - 03/01/2003
03/01/2003 - 04/01/2003
04/01/2003 - 05/01/2003
05/01/2003 - 06/01/2003
06/01/2003 - 07/01/2003
07/01/2003 - 08/01/2003
08/01/2003 - 09/01/2003
09/01/2003 - 10/01/2003
10/01/2003 - 11/01/2003
11/01/2003 - 12/01/2003
12/01/2003 - 01/01/2004
01/01/2004 - 02/01/2004
02/01/2004 - 03/01/2004
03/01/2004 - 04/01/2004
04/01/2004 - 05/01/2004
05/01/2004 - 06/01/2004
06/01/2004 - 07/01/2004
07/01/2004 - 08/01/2004
08/01/2004 - 09/01/2004
09/01/2004 - 10/01/2004
10/01/2004 - 11/01/2004
11/01/2004 - 12/01/2004
12/01/2004 - 01/01/2005
01/01/2005 - 02/01/2005
02/01/2005 - 03/01/2005
04/01/2005 - 05/01/2005
05/01/2005 - 06/01/2005
06/01/2005 - 07/01/2005
07/01/2005 - 08/01/2005
08/01/2005 - 09/01/2005
09/01/2005 - 10/01/2005
10/01/2005 - 11/01/2005
11/01/2005 - 12/01/2005
12/01/2005 - 01/01/2006
01/01/2006 - 02/01/2006
02/01/2006 - 03/01/2006
03/01/2006 - 04/01/2006
04/01/2006 - 05/01/2006
05/01/2006 - 06/01/2006
06/01/2006 - 07/01/2006
07/01/2006 - 08/01/2006
08/01/2006 - 09/01/2006
09/01/2006 - 10/01/2006
10/01/2006 - 11/01/2006
11/01/2006 - 12/01/2006
12/01/2006 - 01/01/2007
01/01/2007 - 02/01/2007
02/01/2007 - 03/01/2007
03/01/2007 - 04/01/2007
04/01/2007 - 05/01/2007
05/01/2007 - 06/01/2007
06/01/2007 - 07/01/2007
07/01/2007 - 08/01/2007
08/01/2007 - 09/01/2007
09/01/2007 - 10/01/2007
10/01/2007 - 11/01/2007
11/01/2007 - 12/01/2007
12/01/2007 - 01/01/2008
01/01/2008 - 02/01/2008
02/01/2008 - 03/01/2008
03/01/2008 - 04/01/2008
04/01/2008 - 05/01/2008
05/01/2008 - 06/01/2008
08/01/2008 - 09/01/2008
09/01/2008 - 10/01/2008



I think I have a shoe addiction. Even Karl believes it. I believe it too. But you know, I've fallen in love with the simplicity that is the humble clog. The first weekend I arrived in Boise, Karl and I visited his friend Kyle, whom I last met in the Summer. Also there was Kyle's girlfriend, Emily. Later on, Amanda, another friend of Karl's dropped by, and suggested I go with her to see her apartment. Because my shoes were awfully troublesome, I borrowed Emily's pair of clogs.

I was smitten at that moment.

A few weeks later, while shopping with Karl and his mom Katie at a second-hand store for some winter clothes for me and other knick-knacks (we had to distract her for a few hours while Karl's dad John and brother Matt set up Katie's birthday dinner at their house), I saw this pair of fleece-lined, tan colored clogs. I tried them on, and since then, I've been wearing them everywhere.




I love them! They're so warm and comfortable... even in the snow! Fleeeeeeecey.

Since then I have a fixation on clogs. Just after Karl's birthday, Ryann and I went to buy gifts for Karl (not because we had forgotten, mind you!) and he parked just outside Macy's shoe department. Baaaaaad idea. I kept double-taking at the lovely pairs of leather clogs on display. I finally told myself that those shoes were probably my entire paycheck, and left the store with Ryann.

Then a week after I saw this pair of "shooties" (shoe/bootie) that I absolutely adored on the Payless ShoeSource website. They were on clearance sale too, and had my size! I thought about it for a loooooong while and asked Karl if he could take me to a Payless. Karl tracked down a Payless outlet at the mall since we had to get Christmas gifts for the guys, and I emerged from the store cradling a new pair of shoes.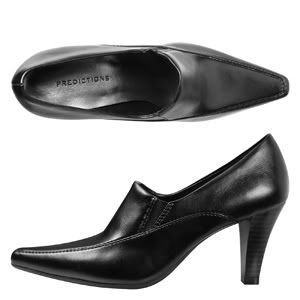 A few days later, I was hanging out at the Flying Pie outlet (best pizza ever, no contest) on State Street. I got a little bored and walked over to the Salvation Army outlet next door. I went in there looking for maybe a nice crochet/knit hat to keep my head warm, but instead, you guessed it. I found a pair of deliciously chocolate brown clogs. I had to stay my hand, and instead browsed the hat section (didn't find one though, Roomie Ryan gave me one later) and the sweater section. I kept going back to the shoe section to try those clogs on. They fit perfectly, but I'm sure Karl would've complained something horrible, so after about an hour of browsing, I went back.

I'm just waiting for the store to reopen on the day after New Year's to go buy the pair of clogs. I've set my mind on it now.

GAH!

Okay I'll stop gushing now.
. // prawninator | 01:53 + ~
To whoever you are, wherever you are, I love you. I probably don't know you yet, but when I do, I'll know, and so will you. And you'll love me for who I am, as will I.

You might be living in my neighbourhood, or some other town or country far away. I don't know. And neither do you, at this point.

Wherever you are, I know I'll find you... if you don't find me first.

It's just a matter of time.

. // links | misc +
- poorgamergirl auction
- email me
- [shop] wear your dice
- [shop] the poor gamer girl
- idm website
- idm forums
- halloween photos



Donate to:
The Poor Gamer Girl Fund
:D

We could use any help we can get, but you are not obliged to.
:)