B



. // bloglinks +
airina
artieee
bjössi
brandon
caterina
chillicrapblog
chris (one-year-gap)
cordelia
dhalif
donald
ember
ewan
ewen
fadil
frances
giggs
guthrie
huiwen
ian
ivy
jane
jay
kenny
labbit
leck koon
leonard
linus
marcus
maria
melissa
melvin
michelle
morganth
nat ho
nat yong pamela
potatobiscuit
pris meimei
rudi
sade
samantha
sidney
siew ling
silver
sharon
stacy
terentius
travis
tom
wenting
zhen ru

. // archives +
02/01/2002 - 03/01/2002
03/01/2002 - 04/01/2002
04/01/2002 - 05/01/2002
05/01/2002 - 06/01/2002
06/01/2002 - 07/01/2002
07/01/2002 - 08/01/2002
08/01/2002 - 09/01/2002
10/01/2002 - 11/01/2002
11/01/2002 - 12/01/2002
12/01/2002 - 01/01/2003
02/01/2003 - 03/01/2003
03/01/2003 - 04/01/2003
04/01/2003 - 05/01/2003
05/01/2003 - 06/01/2003
06/01/2003 - 07/01/2003
07/01/2003 - 08/01/2003
08/01/2003 - 09/01/2003
09/01/2003 - 10/01/2003
10/01/2003 - 11/01/2003
11/01/2003 - 12/01/2003
12/01/2003 - 01/01/2004
01/01/2004 - 02/01/2004
02/01/2004 - 03/01/2004
03/01/2004 - 04/01/2004
04/01/2004 - 05/01/2004
05/01/2004 - 06/01/2004
06/01/2004 - 07/01/2004
07/01/2004 - 08/01/2004
08/01/2004 - 09/01/2004
09/01/2004 - 10/01/2004
10/01/2004 - 11/01/2004
11/01/2004 - 12/01/2004
12/01/2004 - 01/01/2005
01/01/2005 - 02/01/2005
02/01/2005 - 03/01/2005
04/01/2005 - 05/01/2005
05/01/2005 - 06/01/2005
06/01/2005 - 07/01/2005
07/01/2005 - 08/01/2005
08/01/2005 - 09/01/2005
09/01/2005 - 10/01/2005
10/01/2005 - 11/01/2005
11/01/2005 - 12/01/2005
12/01/2005 - 01/01/2006
01/01/2006 - 02/01/2006
02/01/2006 - 03/01/2006
03/01/2006 - 04/01/2006
04/01/2006 - 05/01/2006
05/01/2006 - 06/01/2006
06/01/2006 - 07/01/2006
07/01/2006 - 08/01/2006
08/01/2006 - 09/01/2006
09/01/2006 - 10/01/2006
10/01/2006 - 11/01/2006
11/01/2006 - 12/01/2006
12/01/2006 - 01/01/2007
01/01/2007 - 02/01/2007
02/01/2007 - 03/01/2007
03/01/2007 - 04/01/2007
04/01/2007 - 05/01/2007
05/01/2007 - 06/01/2007
06/01/2007 - 07/01/2007
07/01/2007 - 08/01/2007
08/01/2007 - 09/01/2007
09/01/2007 - 10/01/2007
10/01/2007 - 11/01/2007
11/01/2007 - 12/01/2007
12/01/2007 - 01/01/2008
01/01/2008 - 02/01/2008
02/01/2008 - 03/01/2008
03/01/2008 - 04/01/2008
04/01/2008 - 05/01/2008
05/01/2008 - 06/01/2008
08/01/2008 - 09/01/2008
09/01/2008 - 10/01/2008

Cold, cold Tucson - 03102006:1402





So I found out that my camera had been faulty because I dropped it. Well, I tripped over the dog this morning and dropped the camera again. It now works like a charm. If the lens can't retract again, all I have to do is give it a good bump on its butt and it'll work again! I am so very smarty.

So with my newfound camera-ness, I have PICTURES! You'll get to see where I'm staying!




This is the garage (back house as the Macholtz's [Chris' parents] call it) and as you can see, it's as dry as bone. Well... it *IS* a desert and they *ARE* having some sort of drought. It's not well ventilated nor is there insulation, so it gets really cold when it's cold, and really warm when it's hot.




Step inside, and this is my room. Bed, laptop, leather jacket, couch, kitchen/bar/fridge/sink at the back. I now have a rice cooker and an electric wok to add to that area, too! YEAH!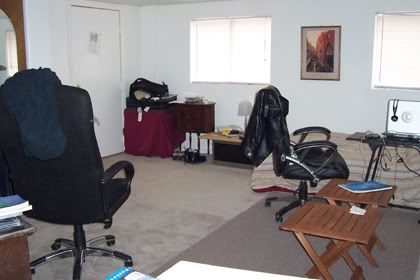 View of the room from the bar counter.




This dog, Fenrir (we all call him Fenner) woke me up this morning with its scratching on my door and whining pathetically. After I yelled "FENNER!" out through the door, he hushed up and curled up by the side, as though keeping watch (we all know he's a silly dog, though) outside like a guard dog. Isn't he beautiful though? He bit me yesterday, so I'm still mad at him and won't take the toys he brings to me. Pfft.




Yeah he came jumping at me as soon as I took this picture...




And this is one of the reasons why I like Chris' parents so much. Darth Tater. Beside him stands Godzilla in Mardi Gras beads... but that's another story for another time.

So now you guys know in what condition I live at the moment. It's not shabby, not perfect, but it's good enough for me! I love my personal little mess to be honest.

Took a little walk today along 22nd Street East, and promptly got lost around trying to get to the zoo. That, and I worried that I hadn't latched the back gate properly before I left. Didn't want Fenner to go running around the neighborhood.

It's cold out, though. About 17°C, I think?
. // prawninator | 10:06 + ~ |
To whoever you are, wherever you are, I love you. I probably don't know you yet, but when I do, I'll know, and so will you. And you'll love me for who I am, as will I.

You might be living in my neighbourhood, or some other town or country far away. I don't know. And neither do you, at this point.

Wherever you are, I know I'll find you... if you don't find me first.

It's just a matter of time.

. // links | misc +
- poorgamergirl auction
- email me
- [shop] wear your dice
- [shop] the poor gamer girl
- idm website
- idm forums
- halloween photos



Donate to:
The Poor Gamer Girl Fund
:D

We could use any help we can get, but you are not obliged to.
:)