B



. // bloglinks +
airina
artieee
bjössi
brandon
caterina
chillicrapblog
chris (one-year-gap)
cordelia
dhalif
donald
ember
ewan
ewen
fadil
frances
giggs
guthrie
huiwen
ian
ivy
jane
jay
kenny
labbit
leck koon
leonard
linus
marcus
maria
melissa
melvin
michelle
morganth
nat ho
nat yong pamela
potatobiscuit
pris meimei
rudi
sade
samantha
sidney
siew ling
silver
sharon
stacy
terentius
travis
tom
wenting
zhen ru

. // archives +
02/01/2002 - 03/01/2002
03/01/2002 - 04/01/2002
04/01/2002 - 05/01/2002
05/01/2002 - 06/01/2002
06/01/2002 - 07/01/2002
07/01/2002 - 08/01/2002
08/01/2002 - 09/01/2002
10/01/2002 - 11/01/2002
11/01/2002 - 12/01/2002
12/01/2002 - 01/01/2003
02/01/2003 - 03/01/2003
03/01/2003 - 04/01/2003
04/01/2003 - 05/01/2003
05/01/2003 - 06/01/2003
06/01/2003 - 07/01/2003
07/01/2003 - 08/01/2003
08/01/2003 - 09/01/2003
09/01/2003 - 10/01/2003
10/01/2003 - 11/01/2003
11/01/2003 - 12/01/2003
12/01/2003 - 01/01/2004
01/01/2004 - 02/01/2004
02/01/2004 - 03/01/2004
03/01/2004 - 04/01/2004
04/01/2004 - 05/01/2004
05/01/2004 - 06/01/2004
06/01/2004 - 07/01/2004
07/01/2004 - 08/01/2004
08/01/2004 - 09/01/2004
09/01/2004 - 10/01/2004
10/01/2004 - 11/01/2004
11/01/2004 - 12/01/2004
12/01/2004 - 01/01/2005
01/01/2005 - 02/01/2005
02/01/2005 - 03/01/2005
04/01/2005 - 05/01/2005
05/01/2005 - 06/01/2005
06/01/2005 - 07/01/2005
07/01/2005 - 08/01/2005
08/01/2005 - 09/01/2005
09/01/2005 - 10/01/2005
10/01/2005 - 11/01/2005
11/01/2005 - 12/01/2005
12/01/2005 - 01/01/2006
01/01/2006 - 02/01/2006
02/01/2006 - 03/01/2006
03/01/2006 - 04/01/2006
04/01/2006 - 05/01/2006
05/01/2006 - 06/01/2006
06/01/2006 - 07/01/2006
07/01/2006 - 08/01/2006
08/01/2006 - 09/01/2006
09/01/2006 - 10/01/2006
10/01/2006 - 11/01/2006
11/01/2006 - 12/01/2006
12/01/2006 - 01/01/2007
01/01/2007 - 02/01/2007
02/01/2007 - 03/01/2007
03/01/2007 - 04/01/2007
04/01/2007 - 05/01/2007
05/01/2007 - 06/01/2007
06/01/2007 - 07/01/2007
07/01/2007 - 08/01/2007
08/01/2007 - 09/01/2007
09/01/2007 - 10/01/2007
10/01/2007 - 11/01/2007
11/01/2007 - 12/01/2007
12/01/2007 - 01/01/2008
01/01/2008 - 02/01/2008
02/01/2008 - 03/01/2008
03/01/2008 - 04/01/2008
04/01/2008 - 05/01/2008
05/01/2008 - 06/01/2008
08/01/2008 - 09/01/2008
09/01/2008 - 10/01/2008

Cinco de Mayo!

I know, I know. A little late.

Didn't really feel any need to do any writing recently, really. I just kinda walk around the lake, in the freezing cold (sure, laugh at me. It's only 52?F here after all) or just walk around in general. Moping would be a better word for the lack of better things to do. But World of Warcraft is goooooooooood.

So like the title suggests, it was the fifth of May. Apparently, it is yet another excuse for Americans to go on a drinking spree, other than Saint Patrick's Day on March 17th. Which is technically what Karl and I did. We drank. Not as much as his brother Matt, though who was already shitfaced when Karl and I got to the party. It was interesting, watching the bobble-headed Matt in the arms of his best friend Cody. Karl also admitted that some part of him wanted to laugh and the other part of him wanted to send him to the hospital to have his stomach pumped. Poor guy. At least he seemed like he felt a lot better when Karl and I went to his parents' for dinner yesterday.

Saturday wasn't at all uneventful. I spent the ENTIRE evening at the Flying Pie Pizzaria where Karl works (best pizza EVAH! And I got to make my own last Wednesday, too!) doing nothing but drawing and chatting with his colleagues and various customers, even getting into a discussion on language and culture at some point. It was by far the most interesting visit to the place I have had, besides the time Karl brought me there for an animefest. Good times.

Last week, Jon and Emily (Saigh and Elemesnedene) drove five hours from Utah to visit Karl and myself. It only took five hours because according to Jon, they took a wrong turn thanks to Emily, who taught me a whole new way to annoy Jon ("wee-u-wee-u-wee-u-wee-u-wee-u-wee-u!"). But it was fun times, fun times. Here, I have some pictures to prove it!

Did I mention how Karl and I got indigestion and/or mild food poisoning from Hooters? According to him, that place is mostly just "tits and ass, and maybe food". Which is mostly true. Some of their faces aren't even worth looking at.

So here you go; pictures!




Jon and Karl :D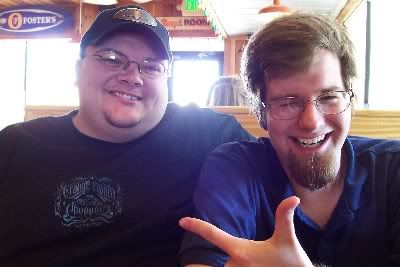 Jon and Karl again :D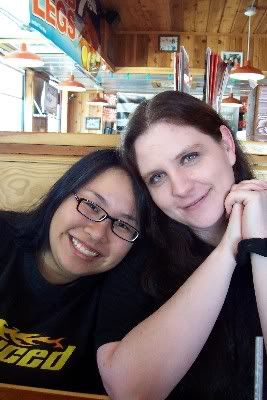 Em and myself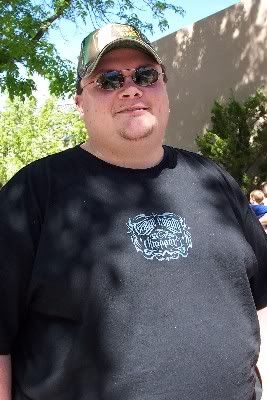 And Jon in his new Hooters trucker cap (It says "Nice Rack") at the zoo. I knew I should've taken a picture of Em's purple monkey thing!

:)
. // prawninator | 12:02 + ~ |
To whoever you are, wherever you are, I love you. I probably don't know you yet, but when I do, I'll know, and so will you. And you'll love me for who I am, as will I.

You might be living in my neighbourhood, or some other town or country far away. I don't know. And neither do you, at this point.

Wherever you are, I know I'll find you... if you don't find me first.

It's just a matter of time.

. // links | misc +
- poorgamergirl auction
- email me
- [shop] wear your dice
- [shop] the poor gamer girl
- idm website
- idm forums
- halloween photos



Donate to:
The Poor Gamer Girl Fund
:D

We could use any help we can get, but you are not obliged to.
:)