B



. // bloglinks +
airina
artieee
bjössi
brandon
caterina
chillicrapblog
chris (one-year-gap)
cordelia
dhalif
donald
ember
ewan
ewen
fadil
frances
giggs
guthrie
huiwen
ian
ivy
jane
jay
kenny
labbit
leck koon
leonard
linus
marcus
maria
melissa
melvin
michelle
morganth
nat ho
nat yong pamela
potatobiscuit
pris meimei
rudi
sade
samantha
sidney
siew ling
silver
sharon
stacy
terentius
travis
tom
wenting
zhen ru

. // archives +
02/01/2002 - 03/01/2002
03/01/2002 - 04/01/2002
04/01/2002 - 05/01/2002
05/01/2002 - 06/01/2002
06/01/2002 - 07/01/2002
07/01/2002 - 08/01/2002
08/01/2002 - 09/01/2002
10/01/2002 - 11/01/2002
11/01/2002 - 12/01/2002
12/01/2002 - 01/01/2003
02/01/2003 - 03/01/2003
03/01/2003 - 04/01/2003
04/01/2003 - 05/01/2003
05/01/2003 - 06/01/2003
06/01/2003 - 07/01/2003
07/01/2003 - 08/01/2003
08/01/2003 - 09/01/2003
09/01/2003 - 10/01/2003
10/01/2003 - 11/01/2003
11/01/2003 - 12/01/2003
12/01/2003 - 01/01/2004
01/01/2004 - 02/01/2004
02/01/2004 - 03/01/2004
03/01/2004 - 04/01/2004
04/01/2004 - 05/01/2004
05/01/2004 - 06/01/2004
06/01/2004 - 07/01/2004
07/01/2004 - 08/01/2004
08/01/2004 - 09/01/2004
09/01/2004 - 10/01/2004
10/01/2004 - 11/01/2004
11/01/2004 - 12/01/2004
12/01/2004 - 01/01/2005
01/01/2005 - 02/01/2005
02/01/2005 - 03/01/2005
04/01/2005 - 05/01/2005
05/01/2005 - 06/01/2005
06/01/2005 - 07/01/2005
07/01/2005 - 08/01/2005
08/01/2005 - 09/01/2005
09/01/2005 - 10/01/2005
10/01/2005 - 11/01/2005
11/01/2005 - 12/01/2005
12/01/2005 - 01/01/2006
01/01/2006 - 02/01/2006
02/01/2006 - 03/01/2006
03/01/2006 - 04/01/2006
04/01/2006 - 05/01/2006
05/01/2006 - 06/01/2006
06/01/2006 - 07/01/2006
07/01/2006 - 08/01/2006
08/01/2006 - 09/01/2006
09/01/2006 - 10/01/2006
10/01/2006 - 11/01/2006
11/01/2006 - 12/01/2006
12/01/2006 - 01/01/2007
01/01/2007 - 02/01/2007
02/01/2007 - 03/01/2007
03/01/2007 - 04/01/2007
04/01/2007 - 05/01/2007
05/01/2007 - 06/01/2007
06/01/2007 - 07/01/2007
07/01/2007 - 08/01/2007
08/01/2007 - 09/01/2007
09/01/2007 - 10/01/2007
10/01/2007 - 11/01/2007
11/01/2007 - 12/01/2007
12/01/2007 - 01/01/2008
01/01/2008 - 02/01/2008
02/01/2008 - 03/01/2008
03/01/2008 - 04/01/2008
04/01/2008 - 05/01/2008
05/01/2008 - 06/01/2008
08/01/2008 - 09/01/2008
09/01/2008 - 10/01/2008

Man throws 2 kids, self off 15th floor of hotel

B-but.. where's the red thread?

(Sorry, I'm being insensitive)

So I don't know why, but I got addicted to Nintendogs again (thanks Chris, for the Daschund copy you "swore" was mine when I lost mine during an IT exhibition :P) and I'm taking them for walks every half an hour. It's almost funny, I tell the WoW'ers that I'm taking my dog for a walk, and knowing me, they went, "Your REAL dogs?" Bah. Damned gnome mages. *shakes fist*

So being in Tucson is BOOOOOOOOOOOOOOOORING.

ONLY because I can't drive in traffic without a license. Even the closest convenience store is almost mile away. BUT I KNOW HOW TO DRIVE (an automatic) NOW (just.. not past 30 miles an hour, and I can't fucking park. And I turn too quick..)! But I'm definitely not going to walk around in the afternoon 45?C sun (again. I did that once... Never again). So yeah, it's kinda boring here, I'm still staying with Chris' parents and they're all pretty nice, but they work and travel a lot so I don't get to go out a lot unless I'm playing with Fenner or killing cockroaches.

So I do a lot of Photoshop (my new theme is Polaroids and coffee stains) and listen to a lot of music (and comedy, my new obsession. Or a combination of both, but my parents would probably find what I'm listening to distasteful), and I was surfing around the Internet, of course.

Found that Rhapsody, a Real Media music program was collecting dust in the harddrive, so I caved in (laugh, Chris, laugh) and signed up for a monthly subscription. I've discovered so much music since then. Like the Sugarhill Gang, and Styx. And Brad Paisley.

So yeah, update on pre-travelling home me.
Nothing new, except for those Photoshop things.

Here are some examples of what I've been doing. Still experimenting though.
Sure beats typical, boring metallic frames.



Taken during our trip in Vegas, used a fridge magnet, and an ACTUAL FRIDGE omg.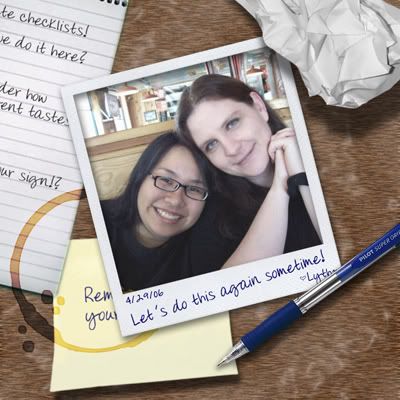 Taken during our trip to Hooters in Boise. Never going there again. I was dry on ideas, and Karl came up with the 'cluttered desk' idea, so here it is. Not very well done, but I tried. Random photos taken and thrown together to form a sort of cluttered desk. I like the way it turned out though.



Commissioned as a 'picture message' for her new beau. Again, pressed for background ideas, so made a paperbag design based off WinCo Foods supermarket paperbag, especially since I've been to one of those in Boise countless times for groceries. Cooking for three grown people each time = hard.



This one was actually too small to work with; I had to extend it further so it'd fit in the Polaroid frame. I wasn't so dry on this one, I saw the corkboard just behind my bed, and decided to use that idea.

Noticed the Polaroid and coffeestains in all four pictures? Yeah, that's my new theme, so any ideas would be greatly appreciated. I'm trying to keep my mind fresh, but it's hard to do so when I have a lot to think about.
. // prawninator | 14:11 + ~ |
To whoever you are, wherever you are, I love you. I probably don't know you yet, but when I do, I'll know, and so will you. And you'll love me for who I am, as will I.

You might be living in my neighbourhood, or some other town or country far away. I don't know. And neither do you, at this point.

Wherever you are, I know I'll find you... if you don't find me first.

It's just a matter of time.

. // links | misc +
- poorgamergirl auction
- email me
- [shop] wear your dice
- [shop] the poor gamer girl
- idm website
- idm forums
- halloween photos



Donate to:
The Poor Gamer Girl Fund
:D

We could use any help we can get, but you are not obliged to.
:)