B



. // bloglinks +
airina
artieee
bjössi
brandon
caterina
chillicrapblog
chris (one-year-gap)
cordelia
dhalif
donald
ember
ewan
ewen
fadil
frances
giggs
guthrie
huiwen
ian
ivy
jane
jay
kenny
labbit
leck koon
leonard
linus
marcus
maria
melissa
melvin
michelle
morganth
nat ho
nat yong pamela
potatobiscuit
pris meimei
rudi
sade
samantha
sidney
siew ling
silver
sharon
stacy
terentius
travis
tom
wenting
zhen ru

. // archives +
02/01/2002 - 03/01/2002
03/01/2002 - 04/01/2002
04/01/2002 - 05/01/2002
05/01/2002 - 06/01/2002
06/01/2002 - 07/01/2002
07/01/2002 - 08/01/2002
08/01/2002 - 09/01/2002
10/01/2002 - 11/01/2002
11/01/2002 - 12/01/2002
12/01/2002 - 01/01/2003
02/01/2003 - 03/01/2003
03/01/2003 - 04/01/2003
04/01/2003 - 05/01/2003
05/01/2003 - 06/01/2003
06/01/2003 - 07/01/2003
07/01/2003 - 08/01/2003
08/01/2003 - 09/01/2003
09/01/2003 - 10/01/2003
10/01/2003 - 11/01/2003
11/01/2003 - 12/01/2003
12/01/2003 - 01/01/2004
01/01/2004 - 02/01/2004
02/01/2004 - 03/01/2004
03/01/2004 - 04/01/2004
04/01/2004 - 05/01/2004
05/01/2004 - 06/01/2004
06/01/2004 - 07/01/2004
07/01/2004 - 08/01/2004
08/01/2004 - 09/01/2004
09/01/2004 - 10/01/2004
10/01/2004 - 11/01/2004
11/01/2004 - 12/01/2004
12/01/2004 - 01/01/2005
01/01/2005 - 02/01/2005
02/01/2005 - 03/01/2005
04/01/2005 - 05/01/2005
05/01/2005 - 06/01/2005
06/01/2005 - 07/01/2005
07/01/2005 - 08/01/2005
08/01/2005 - 09/01/2005
09/01/2005 - 10/01/2005
10/01/2005 - 11/01/2005
11/01/2005 - 12/01/2005
12/01/2005 - 01/01/2006
01/01/2006 - 02/01/2006
02/01/2006 - 03/01/2006
03/01/2006 - 04/01/2006
04/01/2006 - 05/01/2006
05/01/2006 - 06/01/2006
06/01/2006 - 07/01/2006
07/01/2006 - 08/01/2006
08/01/2006 - 09/01/2006
09/01/2006 - 10/01/2006
10/01/2006 - 11/01/2006
11/01/2006 - 12/01/2006
12/01/2006 - 01/01/2007
01/01/2007 - 02/01/2007
02/01/2007 - 03/01/2007
03/01/2007 - 04/01/2007
04/01/2007 - 05/01/2007
05/01/2007 - 06/01/2007
06/01/2007 - 07/01/2007
07/01/2007 - 08/01/2007
08/01/2007 - 09/01/2007
09/01/2007 - 10/01/2007
10/01/2007 - 11/01/2007
11/01/2007 - 12/01/2007
12/01/2007 - 01/01/2008
01/01/2008 - 02/01/2008
02/01/2008 - 03/01/2008
03/01/2008 - 04/01/2008
04/01/2008 - 05/01/2008
05/01/2008 - 06/01/2008
08/01/2008 - 09/01/2008
09/01/2008 - 10/01/2008



It was an interesting experience. I never had makeup put on by someone else before. Even when I was in the school choir, I did my own makeup. Then again I never mixed well with anyone else, so it was understandable. The lady started by asking me what kinda of look I wanted to go for. "Something other than the office getup" was what I said. She went on to give me a smoky purple look. I looooove it. She chose my favorite color right off the bat!

And then there was the hair guy. Gosh, I could have died. He was just taking my hair, tying bunches of it into oddly positioned ponytails with rubber bands and started throwing them around my head before securing it with bobby pins. SEVENTEEN of them. He had said something along the lines of, "Your hair is so long that I just want to see how I can play around with it." Apparently, he did.

So... here are the results.

Before and after hair, anyway.



This was before I had my hair tousled and flung about.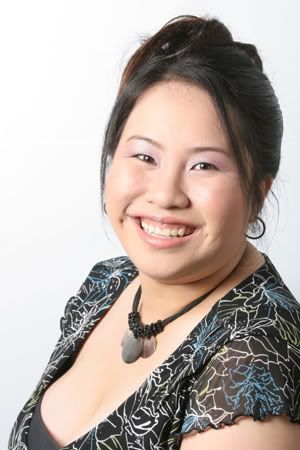 The photographer made me take off my glasses. :(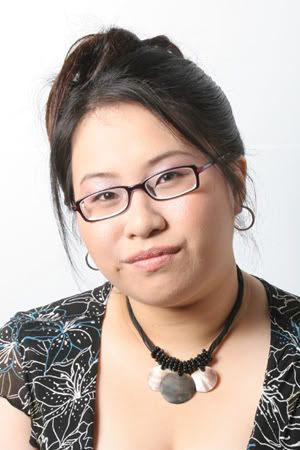 I should probably smile more.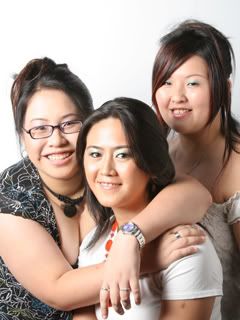 Group shot! That's Jane in the middle, and Stacy on the right.



I just found this concept interesting. ZOMGIMONAMAGAZINECOVER



Whaddya think? Chris says that I look gorgeous (does this mean I don't otherwise??!), but I don't know, I need to lose a lot more weight. That, and I need actual sleeves on my arms. *watches self-consciousness go up and self-esteem go down a notch*
. // prawninator | 17:28 + ~ |
To whoever you are, wherever you are, I love you. I probably don't know you yet, but when I do, I'll know, and so will you. And you'll love me for who I am, as will I.

You might be living in my neighbourhood, or some other town or country far away. I don't know. And neither do you, at this point.

Wherever you are, I know I'll find you... if you don't find me first.

It's just a matter of time.

. // links | misc +
- poorgamergirl auction
- email me
- [shop] wear your dice
- [shop] the poor gamer girl
- idm website
- idm forums
- halloween photos



Donate to:
The Poor Gamer Girl Fund
:D

We could use any help we can get, but you are not obliged to.
:)