B



. // bloglinks +
airina
artieee
bjössi
brandon
caterina
chillicrapblog
chris (one-year-gap)
cordelia
dhalif
donald
ember
ewan
ewen
fadil
frances
giggs
guthrie
huiwen
ian
ivy
jane
jay
kenny
labbit
leck koon
leonard
linus
marcus
maria
melissa
melvin
michelle
morganth
nat ho
nat yong pamela
potatobiscuit
pris meimei
rudi
sade
samantha
sidney
siew ling
silver
sharon
stacy
terentius
travis
tom
wenting
zhen ru

. // archives +
02/01/2002 - 03/01/2002
03/01/2002 - 04/01/2002
04/01/2002 - 05/01/2002
05/01/2002 - 06/01/2002
06/01/2002 - 07/01/2002
07/01/2002 - 08/01/2002
08/01/2002 - 09/01/2002
10/01/2002 - 11/01/2002
11/01/2002 - 12/01/2002
12/01/2002 - 01/01/2003
02/01/2003 - 03/01/2003
03/01/2003 - 04/01/2003
04/01/2003 - 05/01/2003
05/01/2003 - 06/01/2003
06/01/2003 - 07/01/2003
07/01/2003 - 08/01/2003
08/01/2003 - 09/01/2003
09/01/2003 - 10/01/2003
10/01/2003 - 11/01/2003
11/01/2003 - 12/01/2003
12/01/2003 - 01/01/2004
01/01/2004 - 02/01/2004
02/01/2004 - 03/01/2004
03/01/2004 - 04/01/2004
04/01/2004 - 05/01/2004
05/01/2004 - 06/01/2004
06/01/2004 - 07/01/2004
07/01/2004 - 08/01/2004
08/01/2004 - 09/01/2004
09/01/2004 - 10/01/2004
10/01/2004 - 11/01/2004
11/01/2004 - 12/01/2004
12/01/2004 - 01/01/2005
01/01/2005 - 02/01/2005
02/01/2005 - 03/01/2005
04/01/2005 - 05/01/2005
05/01/2005 - 06/01/2005
06/01/2005 - 07/01/2005
07/01/2005 - 08/01/2005
08/01/2005 - 09/01/2005
09/01/2005 - 10/01/2005
10/01/2005 - 11/01/2005
11/01/2005 - 12/01/2005
12/01/2005 - 01/01/2006
01/01/2006 - 02/01/2006
02/01/2006 - 03/01/2006
03/01/2006 - 04/01/2006
04/01/2006 - 05/01/2006
05/01/2006 - 06/01/2006
06/01/2006 - 07/01/2006
07/01/2006 - 08/01/2006
08/01/2006 - 09/01/2006
09/01/2006 - 10/01/2006
10/01/2006 - 11/01/2006
11/01/2006 - 12/01/2006
12/01/2006 - 01/01/2007
01/01/2007 - 02/01/2007
02/01/2007 - 03/01/2007
03/01/2007 - 04/01/2007
04/01/2007 - 05/01/2007
05/01/2007 - 06/01/2007
06/01/2007 - 07/01/2007
07/01/2007 - 08/01/2007
08/01/2007 - 09/01/2007
09/01/2007 - 10/01/2007
10/01/2007 - 11/01/2007
11/01/2007 - 12/01/2007
12/01/2007 - 01/01/2008
01/01/2008 - 02/01/2008
02/01/2008 - 03/01/2008
03/01/2008 - 04/01/2008
04/01/2008 - 05/01/2008
05/01/2008 - 06/01/2008
08/01/2008 - 09/01/2008
09/01/2008 - 10/01/2008



ANYWAY!

We started off the Christmas festivities by gathering at Amanda's, where we sat around, watched My Neighbour Totoro, and played Munchkin Cthulhu. Favorite cards have to be O R'lyeh? and Ia R'lyeh! and the Chibithulhu cards. I also like the fact that Kyle's O R'lyeh? card was challenged immediately by Jessie's (not roommate Jess) Ia R'lyeh! card. Fun times! I was gushing over the Chibithulhu one. After that, we reconvened at Kyle's (just a few apartment buildings in the same complex away) and played more games!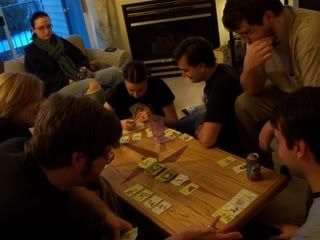 It was also snowing prettily there... Arthur, Jessie's husband (not the roommates!) managed to hit me with a few snowballs and a huge swipe of powder. I kicked some snow at him too. Hah!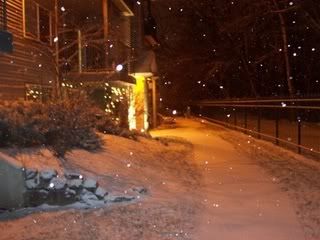 Kire desu-ne!



On Christmas eve, Karl and I headed out to his parents' house in Eagle, where we were to help put the finishing touches we had done the day before to the Christmas tree. The roads were slick and icy, so we stayed over for the night, instead of having to drive out on Christmas Day. Matt stayed over as well, and the boys played Mario Strikers Charged on the Wii until about 4 in the morning.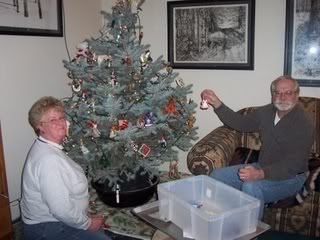 Here are the Kathmann Seniors putting the finishing touches to the tree.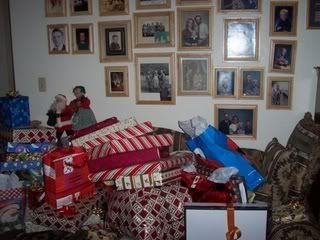 Look at that mountain of presents!
They all went under the tree after we were done decorating.

Just goes to show how popular the Kathmanns are eh? :P

Katie: "Don't forget to say the magic word: PUSSY!"
No dice, that's what she really said before the shutters clicked.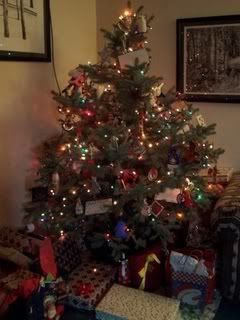 Isn't it GORGEOUS? All the ornaments are SUPER old.
Like heirlooms of sorts!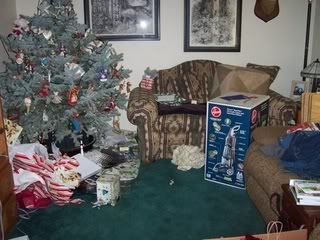 Christmas mess!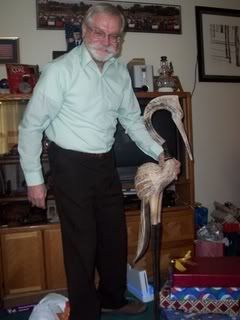 John Kathmann and his new lawn ornament (from Matt!)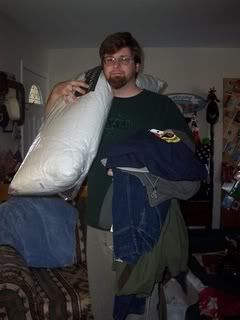 Karl and his PH4T L3WTZ! :D
He tore that new pair of jeans at work a few days later. *sadness*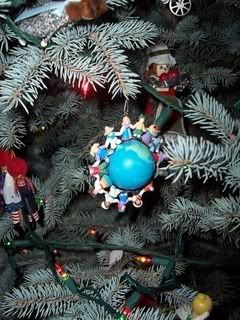 My very own little Christmas ornament :)



Our Christmas haul: (Mine and combined gifts)
Super warm pale green fuzzy blanket of gargantuan proportions (Katie)
Red soft and fuzzy bed socks (Katie)
Red not-so-fuzzy socks with snowflake non-skid pads (Katie)
Hallmark Christmas ornament (Katie)
White dressing robe (Kathmanns)
Leather coin purse (Matt)
Stir-fry wok (Kathmanns)
-> +3 Utensils of Cooking
Body pillow (Katie)
Ratatouille Remy toy and gift bag (Jherod)
Super Mario Galaxy (Ry)
Wii Classic Controller (Jessie&Arthurt)
Coffee table book on Chinglish (Jessie&Arthur)
Giant book of insults (Amanda)
Coffee table book Zen of Zombie (Amanda)
Handmade Weighted Companion Cube Christmas ornament (Emily)

... aaaand... RIVERDANCE TICKETS!!

Karl and I went to watch Riverdance last night with the Kathmann Seniors. It is totally awesome! So awesome that I got a programme, a t-shirt and even a fridge magnet for my mother. Go consumer whore that is me! What we see on TV is NOTHING compared to the real thing, I SWEAR. Other than the disabled (okay, he was retarded) child sitting behind us and blowing raspberries the whole time, it was GREAT.

Sadly, when we got home, I was in for a surprise. More on that later.
. // prawninator | 12:31 + ~ |
To whoever you are, wherever you are, I love you. I probably don't know you yet, but when I do, I'll know, and so will you. And you'll love me for who I am, as will I.

You might be living in my neighbourhood, or some other town or country far away. I don't know. And neither do you, at this point.

Wherever you are, I know I'll find you... if you don't find me first.

It's just a matter of time.

. // links | misc +
- poorgamergirl auction
- email me
- [shop] wear your dice
- [shop] the poor gamer girl
- idm website
- idm forums
- halloween photos



Donate to:
The Poor Gamer Girl Fund
:D

We could use any help we can get, but you are not obliged to.
:)