B



. // bloglinks +
airina
artieee
bjössi
brandon
caterina
chillicrapblog
chris (one-year-gap)
cordelia
dhalif
donald
ember
ewan
ewen
fadil
frances
giggs
guthrie
huiwen
ian
ivy
jane
jay
kenny
labbit
leck koon
leonard
linus
marcus
maria
melissa
melvin
michelle
morganth
nat ho
nat yong pamela
potatobiscuit
pris meimei
rudi
sade
samantha
sidney
siew ling
silver
sharon
stacy
terentius
travis
tom
wenting
zhen ru

. // archives +
02/01/2002 - 03/01/2002
03/01/2002 - 04/01/2002
04/01/2002 - 05/01/2002
05/01/2002 - 06/01/2002
06/01/2002 - 07/01/2002
07/01/2002 - 08/01/2002
08/01/2002 - 09/01/2002
10/01/2002 - 11/01/2002
11/01/2002 - 12/01/2002
12/01/2002 - 01/01/2003
02/01/2003 - 03/01/2003
03/01/2003 - 04/01/2003
04/01/2003 - 05/01/2003
05/01/2003 - 06/01/2003
06/01/2003 - 07/01/2003
07/01/2003 - 08/01/2003
08/01/2003 - 09/01/2003
09/01/2003 - 10/01/2003
10/01/2003 - 11/01/2003
11/01/2003 - 12/01/2003
12/01/2003 - 01/01/2004
01/01/2004 - 02/01/2004
02/01/2004 - 03/01/2004
03/01/2004 - 04/01/2004
04/01/2004 - 05/01/2004
05/01/2004 - 06/01/2004
06/01/2004 - 07/01/2004
07/01/2004 - 08/01/2004
08/01/2004 - 09/01/2004
09/01/2004 - 10/01/2004
10/01/2004 - 11/01/2004
11/01/2004 - 12/01/2004
12/01/2004 - 01/01/2005
01/01/2005 - 02/01/2005
02/01/2005 - 03/01/2005
04/01/2005 - 05/01/2005
05/01/2005 - 06/01/2005
06/01/2005 - 07/01/2005
07/01/2005 - 08/01/2005
08/01/2005 - 09/01/2005
09/01/2005 - 10/01/2005
10/01/2005 - 11/01/2005
11/01/2005 - 12/01/2005
12/01/2005 - 01/01/2006
01/01/2006 - 02/01/2006
02/01/2006 - 03/01/2006
03/01/2006 - 04/01/2006
04/01/2006 - 05/01/2006
05/01/2006 - 06/01/2006
06/01/2006 - 07/01/2006
07/01/2006 - 08/01/2006
08/01/2006 - 09/01/2006
09/01/2006 - 10/01/2006
10/01/2006 - 11/01/2006
11/01/2006 - 12/01/2006
12/01/2006 - 01/01/2007
01/01/2007 - 02/01/2007
02/01/2007 - 03/01/2007
03/01/2007 - 04/01/2007
04/01/2007 - 05/01/2007
05/01/2007 - 06/01/2007
06/01/2007 - 07/01/2007
07/01/2007 - 08/01/2007
08/01/2007 - 09/01/2007
09/01/2007 - 10/01/2007
10/01/2007 - 11/01/2007
11/01/2007 - 12/01/2007
12/01/2007 - 01/01/2008
01/01/2008 - 02/01/2008
02/01/2008 - 03/01/2008
03/01/2008 - 04/01/2008
04/01/2008 - 05/01/2008
05/01/2008 - 06/01/2008
08/01/2008 - 09/01/2008
09/01/2008 - 10/01/2008



(that was some huge sandwich, Perlin)

Anyway, Karl and I have been eating out a lot due to the mess that the roommates (a.k.a. The Wookies) leave behind in the kitchen. The guy, Mal, isn't so bad. In fact, we all like him. He's socialble, funny, and of course, like the rest of us (save one) is a gamer. His 19 year-old fresh-outta-high-school wife Jess, we ALL hate. Maybe some of us don't hate her, but I do. And I find it hard to hate people in the first place... but she just has that power.

And by all of us, I mean Mal's best friend and his wife, most of the gamers from the (traditional, board, table-top stuff) game store Mal works at, Ry, our "happy-go-angry" roommate, Karl and myself. That would add up to quite a few people. Even the guy that steals bacon and the guy that has greasy hair don't like her.

Okay, that aside. Like I was saying, Mal isn't so bad. He's actually the one that lifts a finger or more to clean up the mess his wife leaves behind. Not as often as he probably should, but with the hours he works, often enough. His wife just comes home from work at 4pm, and promptly goes into their bedroom and usually doesn't emerge until much, MUCH later. Every Monday and Tuesday, which are Mal's off-days, he's always the one that does the laundry and sometimes, the dishes. Jess just mopes around in the room on her off-days.

Sometimes, I feel like she thinks that Mal's her dog, and it saddens me. Not just me, all of us. Of course, the rest of them don't have to live with her, so they don't know half the shit I've seen happen between them.

J: I thought I told you to buy milk on your way home.
M: *talking to bacondude who came over* Huh? Oops.
J: Nevermind, don't worry about it. *lets out huge sigh*
M: *grabs jacket*
J: I said NO. Sit down. *glares at Mal*

WHY DID HE MARRY HER?! I honestly hope, and I know I'm not the only one, that they divorce. The sooner the better. I know she doesn't like me, and I don't honestly care, because I don't like her either. I was watching Pirates of The Caribbean (forgot which) with Mal on the far end of the couch and me on the other, and then Jess just comes and sits between us saying, "Now I'm going to separate you two." .... what? If Karl weren't living with them, I'd have confronted her already. She may be big, size and height-wise, but I have a feeling she's as soft and as easily bruised as a tomato.

ANYWAY. I have photographic proof of the mess(es) they make.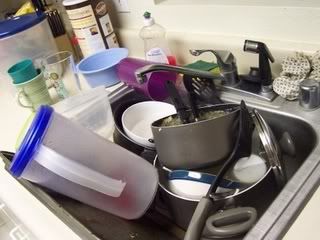 Last week. I caved in and did those dishes.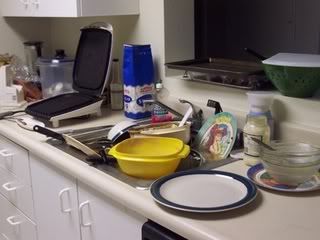 Just a couple of days back.
Also, WHY did she bake TWO more cakes when they haven't even finished the FIRST one?!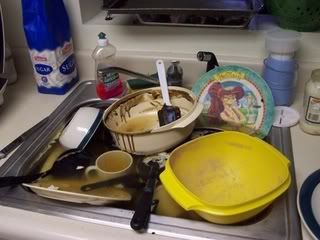 A closer look at the "Lake of Death".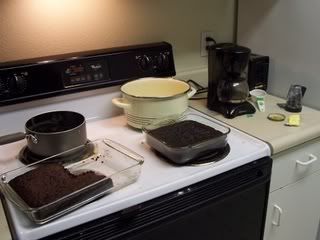 That butter has been out for FOUR days now. Notice the cakes?
Uh-huh. She said they sunk because "there was too much batter in the pans".
Actually, it's because she doesn't know how to mix the damn eggs.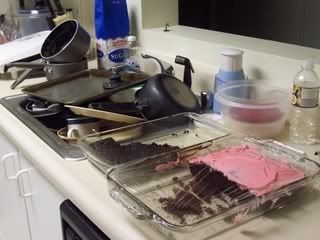 Yesterday. Notice the pink cake? That was the first cake.
I don't know about you, but I don't like creamed cough syrup on my chocolate dessert.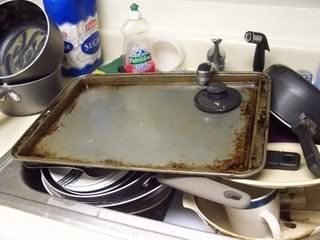 A closer look at the mess.
No lake this time, therefore not as much rancid stench.

Nothing beats clean clothes. However, that pile of clothing has been on the dryer for more than a week now.
Also, someone has been picking clothes out of the pile instead of putting the whole thing away.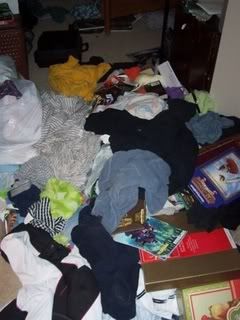 The entryway just beyond the door to their bedroom. *shudder*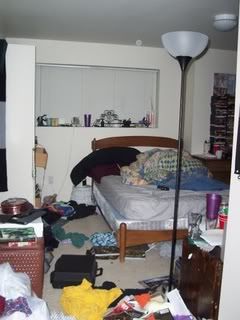 Notice the pint glasses? Those are Karl's.
And they've probably been in there for a month.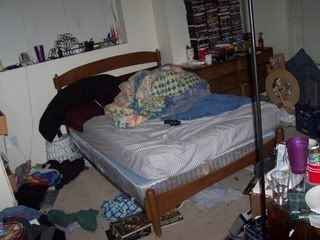 I once found a bowl of half-eaten mac and cheese, encrusted with black mold.
In their bathroom.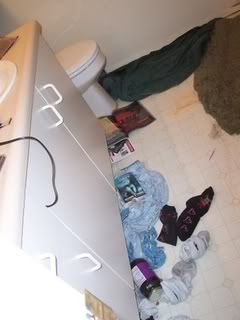 Speaking of bathroom...



Yeah, these are people Karl and I have to live with.

Are you feeling lucky, punk?

. // Update on snow, coming up next!
. // prawninator | 06:14 + ~ |
To whoever you are, wherever you are, I love you. I probably don't know you yet, but when I do, I'll know, and so will you. And you'll love me for who I am, as will I.

You might be living in my neighbourhood, or some other town or country far away. I don't know. And neither do you, at this point.

Wherever you are, I know I'll find you... if you don't find me first.

It's just a matter of time.

. // links | misc +
- poorgamergirl auction
- email me
- [shop] wear your dice
- [shop] the poor gamer girl
- idm website
- idm forums
- halloween photos



Donate to:
The Poor Gamer Girl Fund
:D

We could use any help we can get, but you are not obliged to.
:)