B



. // bloglinks +
airina
artieee
bjössi
brandon
caterina
chillicrapblog
chris (one-year-gap)
cordelia
dhalif
donald
ember
ewan
ewen
fadil
frances
giggs
guthrie
huiwen
ian
ivy
jane
jay
kenny
labbit
leck koon
leonard
linus
marcus
maria
melissa
melvin
michelle
morganth
nat ho
nat yong pamela
potatobiscuit
pris meimei
rudi
sade
samantha
sidney
siew ling
silver
sharon
stacy
terentius
travis
tom
wenting
zhen ru

. // archives +
02/01/2002 - 03/01/2002
03/01/2002 - 04/01/2002
04/01/2002 - 05/01/2002
05/01/2002 - 06/01/2002
06/01/2002 - 07/01/2002
07/01/2002 - 08/01/2002
08/01/2002 - 09/01/2002
10/01/2002 - 11/01/2002
11/01/2002 - 12/01/2002
12/01/2002 - 01/01/2003
02/01/2003 - 03/01/2003
03/01/2003 - 04/01/2003
04/01/2003 - 05/01/2003
05/01/2003 - 06/01/2003
06/01/2003 - 07/01/2003
07/01/2003 - 08/01/2003
08/01/2003 - 09/01/2003
09/01/2003 - 10/01/2003
10/01/2003 - 11/01/2003
11/01/2003 - 12/01/2003
12/01/2003 - 01/01/2004
01/01/2004 - 02/01/2004
02/01/2004 - 03/01/2004
03/01/2004 - 04/01/2004
04/01/2004 - 05/01/2004
05/01/2004 - 06/01/2004
06/01/2004 - 07/01/2004
07/01/2004 - 08/01/2004
08/01/2004 - 09/01/2004
09/01/2004 - 10/01/2004
10/01/2004 - 11/01/2004
11/01/2004 - 12/01/2004
12/01/2004 - 01/01/2005
01/01/2005 - 02/01/2005
02/01/2005 - 03/01/2005
04/01/2005 - 05/01/2005
05/01/2005 - 06/01/2005
06/01/2005 - 07/01/2005
07/01/2005 - 08/01/2005
08/01/2005 - 09/01/2005
09/01/2005 - 10/01/2005
10/01/2005 - 11/01/2005
11/01/2005 - 12/01/2005
12/01/2005 - 01/01/2006
01/01/2006 - 02/01/2006
02/01/2006 - 03/01/2006
03/01/2006 - 04/01/2006
04/01/2006 - 05/01/2006
05/01/2006 - 06/01/2006
06/01/2006 - 07/01/2006
07/01/2006 - 08/01/2006
08/01/2006 - 09/01/2006
09/01/2006 - 10/01/2006
10/01/2006 - 11/01/2006
11/01/2006 - 12/01/2006
12/01/2006 - 01/01/2007
01/01/2007 - 02/01/2007
02/01/2007 - 03/01/2007
03/01/2007 - 04/01/2007
04/01/2007 - 05/01/2007
05/01/2007 - 06/01/2007
06/01/2007 - 07/01/2007
07/01/2007 - 08/01/2007
08/01/2007 - 09/01/2007
09/01/2007 - 10/01/2007
10/01/2007 - 11/01/2007
11/01/2007 - 12/01/2007
12/01/2007 - 01/01/2008
01/01/2008 - 02/01/2008
02/01/2008 - 03/01/2008
03/01/2008 - 04/01/2008
04/01/2008 - 05/01/2008
05/01/2008 - 06/01/2008
08/01/2008 - 09/01/2008
09/01/2008 - 10/01/2008



Now I understand why, and I never leave the apartment without at least three or four layers of clothing. I probably need to buy some thermal underwear, but I guess that's a little late decision, considering I'm coming home on the 11th of February (and landing on the 13th, how nice).

Until today though, I never really understood why some writers describe walking on snow with "snow crunching beneath my feet". Mal and Jess came home dusted with snow, telling me and Ry (who was watching Planet Terror, one of the best movies I've seen) that there's practically four inches of snow right now, outside. I hadn't left the apartment at all today, so I didn't know, though from my vantage point from the table where my laptop sits, I can see if it has melted away or not. I just wasn't paying attention. Where I saw patches of brown roof on the apartment building diagonally opposite us, it was now all covered in brilliant white.

After Jess and Mal had retired to their room, I put on my jeans and bundled myself up warmly in several layers of clothing and strapped on my snow boots and exited the apartment for a while. First stop, the lake. I just had to. It's so beautifully blue in the summer, and so stark white in the winter. Apparently, the lake had frozen over, and Mal had walked out 20ft on it. I didn't quite do the same, though. I walked out to the jetty and cautiously stepped on the ice.

Nothing says "CRUNCH" like cracking ice. Okay, it was more like "CRAAAACK", but I was being careful, and stumbled back onto the jetty. Fun times. My Djarum Vanilla tasted just like coffee in the cold air. Speaking of which, it's actually hard to breathe cold air. I've been told that it would be, I just didn't know how bad it could be. If I breathed at you, I'd probably look like an Ice-Dragon. Like Onyxia only... icy.

Winter, the one season where people who don't smoke can pretend that they are.

I took this video of falling snow a few weeks ago, when the apartment management had salted the roads, so the snow doesn't stay on it. I nearly slipped on slick ice on the road though, always had to grab a hold of Karl while we're walking. Funny thing though, my clogs work better on ice than my snow boots do. Though my snow boots are the warmest things ever on my feet.

You can see the snow better when I'm pointing the camera at the road.

Here are pictures I've taken of snow so far.



Don't they look like little cupcakes?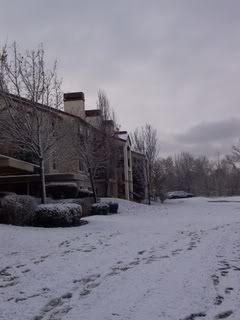 Walking to the Flying Pie from the apartment complex is easy.
To navigate I mean, not to breathe.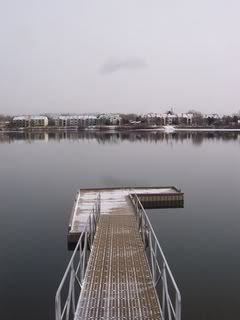 This was before the lake got frozen over.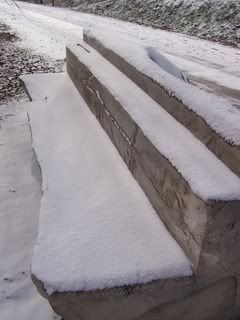 Frozen and Neglected.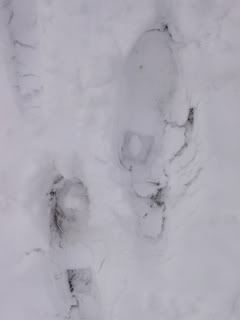 As I trudged through the snow...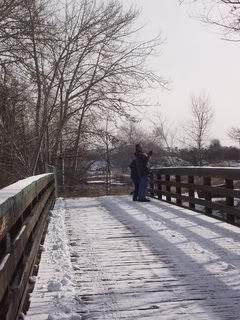 I approached a bridge.
Just over that bridge...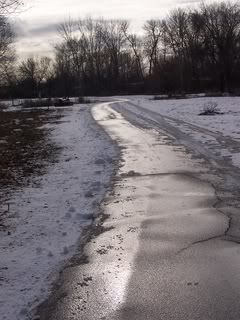 ... lay a road paved with silver.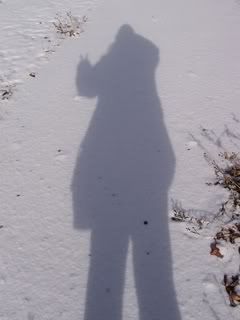 And I arrived at my destination victorious.
Also, I actually had a Venti Toffee-Nut Frappucino from Starbucks
sitting in my pocket.



On a separate, more personal note; I have just recovered from the worst period of my life. And I thought periods like that were only brought upon you when you stop using the pills that were supposed to regulate it in the first place. Pain and suffering are understatements to what I've experienced.

Ta-DAH, I've finally posted about snow.
. // prawninator | 15:17 + ~ |
To whoever you are, wherever you are, I love you. I probably don't know you yet, but when I do, I'll know, and so will you. And you'll love me for who I am, as will I.

You might be living in my neighbourhood, or some other town or country far away. I don't know. And neither do you, at this point.

Wherever you are, I know I'll find you... if you don't find me first.

It's just a matter of time.

. // links | misc +
- poorgamergirl auction
- email me
- [shop] wear your dice
- [shop] the poor gamer girl
- idm website
- idm forums
- halloween photos



Donate to:
The Poor Gamer Girl Fund
:D

We could use any help we can get, but you are not obliged to.
:)