B



. // bloglinks +
airina
artieee
bjössi
brandon
caterina
chillicrapblog
chris (one-year-gap)
cordelia
dhalif
donald
ember
ewan
ewen
fadil
frances
giggs
guthrie
huiwen
ian
ivy
jane
jay
kenny
labbit
leck koon
leonard
linus
marcus
maria
melissa
melvin
michelle
morganth
nat ho
nat yong pamela
potatobiscuit
pris meimei
rudi
sade
samantha
sidney
siew ling
silver
sharon
stacy
terentius
travis
tom
wenting
zhen ru

. // archives +
02/01/2002 - 03/01/2002
03/01/2002 - 04/01/2002
04/01/2002 - 05/01/2002
05/01/2002 - 06/01/2002
06/01/2002 - 07/01/2002
07/01/2002 - 08/01/2002
08/01/2002 - 09/01/2002
10/01/2002 - 11/01/2002
11/01/2002 - 12/01/2002
12/01/2002 - 01/01/2003
02/01/2003 - 03/01/2003
03/01/2003 - 04/01/2003
04/01/2003 - 05/01/2003
05/01/2003 - 06/01/2003
06/01/2003 - 07/01/2003
07/01/2003 - 08/01/2003
08/01/2003 - 09/01/2003
09/01/2003 - 10/01/2003
10/01/2003 - 11/01/2003
11/01/2003 - 12/01/2003
12/01/2003 - 01/01/2004
01/01/2004 - 02/01/2004
02/01/2004 - 03/01/2004
03/01/2004 - 04/01/2004
04/01/2004 - 05/01/2004
05/01/2004 - 06/01/2004
06/01/2004 - 07/01/2004
07/01/2004 - 08/01/2004
08/01/2004 - 09/01/2004
09/01/2004 - 10/01/2004
10/01/2004 - 11/01/2004
11/01/2004 - 12/01/2004
12/01/2004 - 01/01/2005
01/01/2005 - 02/01/2005
02/01/2005 - 03/01/2005
04/01/2005 - 05/01/2005
05/01/2005 - 06/01/2005
06/01/2005 - 07/01/2005
07/01/2005 - 08/01/2005
08/01/2005 - 09/01/2005
09/01/2005 - 10/01/2005
10/01/2005 - 11/01/2005
11/01/2005 - 12/01/2005
12/01/2005 - 01/01/2006
01/01/2006 - 02/01/2006
02/01/2006 - 03/01/2006
03/01/2006 - 04/01/2006
04/01/2006 - 05/01/2006
05/01/2006 - 06/01/2006
06/01/2006 - 07/01/2006
07/01/2006 - 08/01/2006
08/01/2006 - 09/01/2006
09/01/2006 - 10/01/2006
10/01/2006 - 11/01/2006
11/01/2006 - 12/01/2006
12/01/2006 - 01/01/2007
01/01/2007 - 02/01/2007
02/01/2007 - 03/01/2007
03/01/2007 - 04/01/2007
04/01/2007 - 05/01/2007
05/01/2007 - 06/01/2007
06/01/2007 - 07/01/2007
07/01/2007 - 08/01/2007
08/01/2007 - 09/01/2007
09/01/2007 - 10/01/2007
10/01/2007 - 11/01/2007
11/01/2007 - 12/01/2007
12/01/2007 - 01/01/2008
01/01/2008 - 02/01/2008
02/01/2008 - 03/01/2008
03/01/2008 - 04/01/2008
04/01/2008 - 05/01/2008
05/01/2008 - 06/01/2008
08/01/2008 - 09/01/2008
09/01/2008 - 10/01/2008



While I was still in the States, I managed to purchase a little hobby drill, a Dremel tool. It's a great little rotary tool, with attachments for you to sand, buff, drill stuff, or even screw stuff at varying speeds. I got myself a cordless, battery-powered hand tool with a 1/32" collet and bit.

Why a 1/32" bit? That must be tiny! I hear you ask. Well, recently I've started a new hobby, something I wanted to work on while I was in the States but didn't have the resources as yet. I've started drilling dice, and turned them into jewelry. I don't incorporate beads, as the colors of the dice are already bright and each die is unique, so attention shouldn't be distracted from them.

With standard size dice, I can make both earrings and necklaces. If you desire to have a set, please let me know which kind of die (d4, d6, d8, d10, d10 percentile, d12, d20) you would like and what color you prefer. I will then set out to try and find and purchase said dice and hope you like the color. Then again, I've hardly gone wrong with colors in regards to dice. ;) Earrings are $12 a pair (lots of work go into it, believe me) and are attached to 925 silver ear hooks. If you would like normal non-precious metal ear hooks, they're cheaper, at $10. Necklaces are currently $15. All prices are in Singapore Dollars and does not include S&H.

My current set of mini-dice comes in a set of 7 (d4, d6, d8, d10, d10 percentile, d12, d20, typical dice set) and under no circumstances will I split the set. The whole set goes for $17, and are a beautiful pearlized navy color with gold numbers. Mini-dice are attached to 925 silver ear hooks.

The earrings may look large at roughly 16mm, but honestly, when they dangle off your earlobe, it's stunning. I highly recommend the Green Borealis, or the Aqua Cirrus. The mini ones are much smaller, at about 10mm. I have pictures of my work on my Photobucket Album as sites like Etsy work very much like the Ogrimmar Auction House and charge a fee for every listing made. Currently, my album has all but two sets of earrings I have already made, as they were already sold before I could have pictures taken of them.

For the lazy, here are some pictures.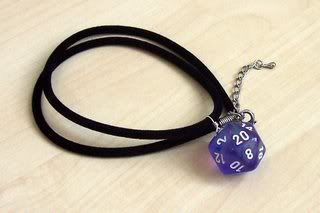 Purple Borealis d20 necklace



Red Borealis d8 earrings on silver



Pearl Navy w/Gold 7pc earring set on silver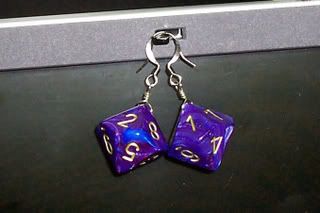 Purple Lustrous d10 earrings on steel



I'm thinking about venturing into the Easter Pink range (Pink Cirrus with gold numbers as opposed to silver). Any suggestions or feedback?
. // prawninator | 13:25 + ~ |
To whoever you are, wherever you are, I love you. I probably don't know you yet, but when I do, I'll know, and so will you. And you'll love me for who I am, as will I.

You might be living in my neighbourhood, or some other town or country far away. I don't know. And neither do you, at this point.

Wherever you are, I know I'll find you... if you don't find me first.

It's just a matter of time.

. // links | misc +
- poorgamergirl auction
- email me
- [shop] wear your dice
- [shop] the poor gamer girl
- idm website
- idm forums
- halloween photos



Donate to:
The Poor Gamer Girl Fund
:D

We could use any help we can get, but you are not obliged to.
:)