B



. // bloglinks +
airina
artieee
bjössi
brandon
caterina
chillicrapblog
chris (one-year-gap)
cordelia
dhalif
donald
ember
ewan
ewen
fadil
frances
giggs
guthrie
huiwen
ian
ivy
jane
jay
kenny
labbit
leck koon
leonard
linus
marcus
maria
melissa
melvin
michelle
morganth
nat ho
nat yong pamela
potatobiscuit
pris meimei
rudi
sade
samantha
sidney
siew ling
silver
sharon
stacy
terentius
travis
tom
wenting
zhen ru

. // archives +
02/01/2002 - 03/01/2002
03/01/2002 - 04/01/2002
04/01/2002 - 05/01/2002
05/01/2002 - 06/01/2002
06/01/2002 - 07/01/2002
07/01/2002 - 08/01/2002
08/01/2002 - 09/01/2002
10/01/2002 - 11/01/2002
11/01/2002 - 12/01/2002
12/01/2002 - 01/01/2003
02/01/2003 - 03/01/2003
03/01/2003 - 04/01/2003
04/01/2003 - 05/01/2003
05/01/2003 - 06/01/2003
06/01/2003 - 07/01/2003
07/01/2003 - 08/01/2003
08/01/2003 - 09/01/2003
09/01/2003 - 10/01/2003
10/01/2003 - 11/01/2003
11/01/2003 - 12/01/2003
12/01/2003 - 01/01/2004
01/01/2004 - 02/01/2004
02/01/2004 - 03/01/2004
03/01/2004 - 04/01/2004
04/01/2004 - 05/01/2004
05/01/2004 - 06/01/2004
06/01/2004 - 07/01/2004
07/01/2004 - 08/01/2004
08/01/2004 - 09/01/2004
09/01/2004 - 10/01/2004
10/01/2004 - 11/01/2004
11/01/2004 - 12/01/2004
12/01/2004 - 01/01/2005
01/01/2005 - 02/01/2005
02/01/2005 - 03/01/2005
04/01/2005 - 05/01/2005
05/01/2005 - 06/01/2005
06/01/2005 - 07/01/2005
07/01/2005 - 08/01/2005
08/01/2005 - 09/01/2005
09/01/2005 - 10/01/2005
10/01/2005 - 11/01/2005
11/01/2005 - 12/01/2005
12/01/2005 - 01/01/2006
01/01/2006 - 02/01/2006
02/01/2006 - 03/01/2006
03/01/2006 - 04/01/2006
04/01/2006 - 05/01/2006
05/01/2006 - 06/01/2006
06/01/2006 - 07/01/2006
07/01/2006 - 08/01/2006
08/01/2006 - 09/01/2006
09/01/2006 - 10/01/2006
10/01/2006 - 11/01/2006
11/01/2006 - 12/01/2006
12/01/2006 - 01/01/2007
01/01/2007 - 02/01/2007
02/01/2007 - 03/01/2007
03/01/2007 - 04/01/2007
04/01/2007 - 05/01/2007
05/01/2007 - 06/01/2007
06/01/2007 - 07/01/2007
07/01/2007 - 08/01/2007
08/01/2007 - 09/01/2007
09/01/2007 - 10/01/2007
10/01/2007 - 11/01/2007
11/01/2007 - 12/01/2007
12/01/2007 - 01/01/2008
01/01/2008 - 02/01/2008
02/01/2008 - 03/01/2008
03/01/2008 - 04/01/2008
04/01/2008 - 05/01/2008
05/01/2008 - 06/01/2008
08/01/2008 - 09/01/2008
09/01/2008 - 10/01/2008

RAH-oh-kay, for the benefit of my dear foreign buddies) at K-Box.

Before we did so however, we took lots of neoprints together and decorating them with pink and blue colored shitpiles and devil horns etc, and also spent some money on gashapon machines, or what we affectionately call "dongdong" machines (it imitates the sound of the coins going into the machine, get your mind out of the gutter!). I actually had to run around B1 looking for someone to change our money into $1 coins. Really had lots of fun either way. We're all a little sad that she's leaving, but I guess we go where our paths take us.

At the gashapon machines, I managed to nab a Shy Guy and a Red Mushroom! I was hoping to get the Question Block, but no such luck this time. Might try again this weekend or something, when I go meet up with Fara and Wee Lin over at PI.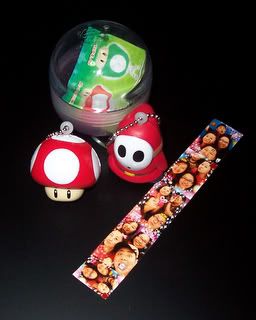 Phat Lewtz!




Taken at K-Box.
What a fun country we live in.



Our karaoke session only stopped at 1am, but we kept singing 'till 1:30, because no one came to stop us either way. My voice is gone from laughing at Aric singing "She Bangs". I swear I almost peed myself from laughing so hard.

You know, I'm really going to miss her.

No one else sings English karaoke songs with me. :'(
. // prawninator | 03:27 + ~ |
To whoever you are, wherever you are, I love you. I probably don't know you yet, but when I do, I'll know, and so will you. And you'll love me for who I am, as will I.

You might be living in my neighbourhood, or some other town or country far away. I don't know. And neither do you, at this point.

Wherever you are, I know I'll find you... if you don't find me first.

It's just a matter of time.

. // links | misc +
- poorgamergirl auction
- email me
- [shop] wear your dice
- [shop] the poor gamer girl
- idm website
- idm forums
- halloween photos



Donate to:
The Poor Gamer Girl Fund
:D

We could use any help we can get, but you are not obliged to.
:)